30L Plant Protection Pesticide Spraying 45kg Payload Spreading Uav Agricultural Long Range Drone with GPS
Product Detail
Product Tags
HIGH COST PERFORMANCE – PLANT PROTECTION 
SOLUTION
·High Efficiency ·Easy to operate ·High Quality ·Stable
·

All-aviation aluminum main frame, light weight, high strength, impact resistance.
·M

odule-level IP67 protection, no fear of water, dust. Corrosion resistance.
·It can be applied to multi-scene crop drug spraying, sowing and spreading fertilizer.
·E

asy to fold, can be installed in common agricultural vehicles, easy to transfer.
·M
odular design, most parts can be replaced by themselves.

HTU T30 Product Parameters
Flight Parameters

Outline dimension

2515*1650*788mm(Unfoldable)

Hovering time

1040*1010*788mm(Foldable)

Effective spray (depending on the crop)

Maximum flight speed

Whole machine weight

(including battery)

Job height

Maximum effective takeoff weight

(near sea level)

Positioning accuracy (good GNSS signal, RTK enabled)

Horizontal ± 10cm Vertical ± 10cm

Battery

Avoidance perception range

1~40m

Avoidance front and rear according to the flight direction

Spraying Parameters

Sowing Parameters

Medicine box capacity

Material box capacity

Nozzle type

High pressure Fan nozzle Support switching centrifugal nozzle

Feeding method

Nozzle model

Bulk material method

Number of nozzles

Feeding speed

Maximum flow rate

Broadcasting

Spray
Spraying

Equipped with 30L oversized medicine box

·

The operating efficiency is increased to 15 hectares/hour.

·

Equipped with no manual pressure relief valve, automatic exhaust, equipped with pressure nozzle, liquid medicine does not drift, can support centrifugal nozzle, powder does not block.

·

The full-range continuous level gauge shows the true liquid level.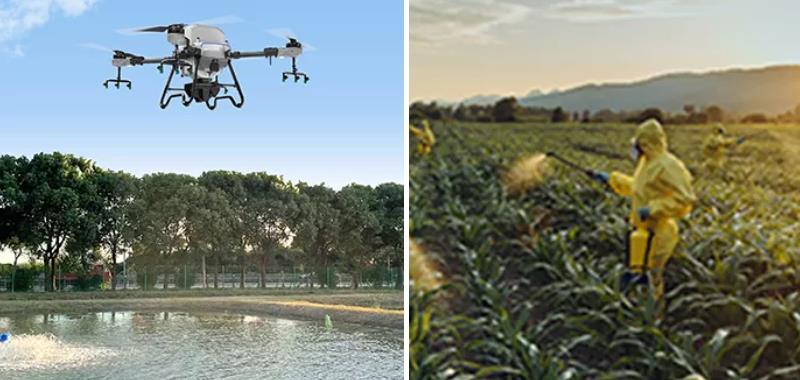 ·120ha/day, 170 times more artificia

l

·Safer without contact

·Uniform spraying,Provincial medicine

·Disinfection in isolation area

·0.7ha/day

·Pesticide injury

·Re-spray, spray leakage

·Manual operation in isolation area is easy to be infected
Spreading
Equipped with 45L bucket, large load

·

8m sowing width, the Air Spray is more uniform, does not hurt the seeds, does not hurt the machine.

·

Full anti-corrosion, washable, no blockage.

·

Measuring material weight, real time, anti-overweight.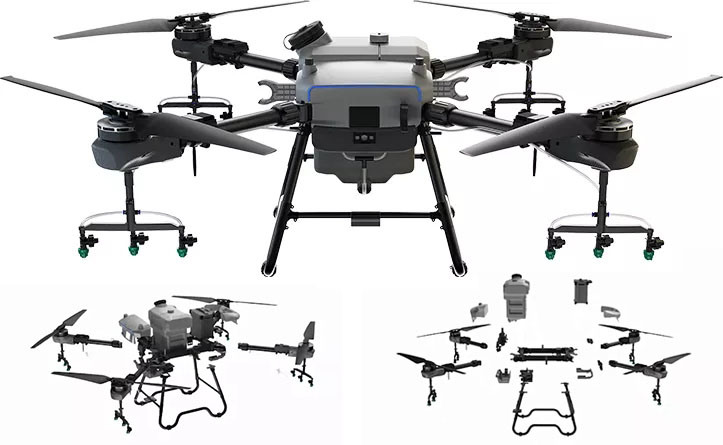 ·Full aviation aluminum main frame, reduce weight while high strength, impact resistance.
·Core components closed treatment, avoid dust entry, resistant to liquid fertilizer corrosion.

·High toughness, foldable, three-layer filter.

·Provides multiple modes of operation, including fully autonomous, AB points, and manual operations.
·A variety of enclosure methods:

Handheld mapping device
, airplane dot, Map dot.
·High-bright screen remote control, you can see clearly under the scorching sun, 6-8 hours long battery life.
·Fully automatic generation of sweeping routes to prevent leakage.
·Equipped with searchlights and help lights, it can also operate safely at night.

·Night navigation: Front and rear 720P HIGH definition FPV, rear FPV can be flipped down to view the ground.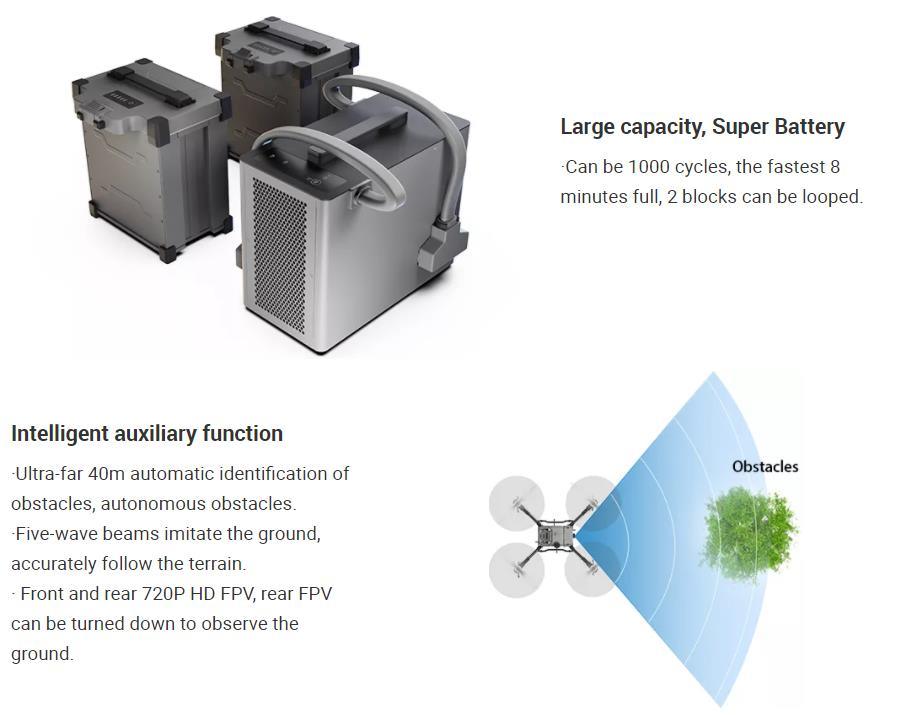 Why Choose Us
1> Our service network is sufficient to guarantee the needs of our customers, a perfect and continuous solution can guarantee the needs of
most
customers.
2> One-stop sourcing provides you with a perfect supply chain of plant protection products, saving your purchasing cost and time cost with high efficiency and quality. You can also enjoy our long-term technical consulting services.
3> We support OEM/ODM service to meet your special needs.
4> Price, information, quality, program, after-sales, a full range of standardized support services for our agents to win more opportunities and competitiveness, making cooperation so easy and efficient.
5> Based on the absolute advantage of factory network, we have long-term cooperation with logistics, which can make the products delivered faster and more efficiently.
6> We will provide the best after-sales service for our customers. You are welcome to visit our factory and receive after-sales service training. No matter what, we will try our best to meet your requirements.
7> We can provide the certifications you need, or we can help you get through your official certifications.

1. Who are we?
We are an integrated factory and trading company, with our own factory production and 65 CNC machining centers. Our customers are all over the world, and we have expanded many categories according to their needs.
2. How can we guarantee quality?
We have a special quality inspection department before we leave the factory, and of course it is very important that we will strictly control the quality of each production process throughout the whole production process, so our products can reach a 99.5% pass rate.
3. What can you buy from us?
Professionaldrones, unmanned vehiclesand other devices with high quality.
4. Why should you buy from us not from other suppliers?
We have 20years of production, R&D and sales experience, andwe have a professional after sales team to support you.
5. What services can we provide?
Accepted Delivery Terms: FOB,CIF,EXW,FCA,DDP; Accepted Payment Currency:USD,EUR,CNY; Accepted Payment Type: T/T,L/C,D/P D/A,Credit Card;
---
Previous:
Purchase 30L 45kg Big Payload Pesticide Spraying Plant Protection GPS Uav Foldable Long Range Drone with Remote Control
---