HBR T22-M Mist Spraying Drone – M5 Intelligent Mist Machine
Product Detail
Product Tags
HBR T22-M MIST SPRAYING DRONE DETAIL
HBR T22-M is an agricultural drone of the mist class, which is specially designed for fruit forest spraying and can solve the problem of imperviousness of fruit trees.
It can spray 7 hectares of fields per hour, which greatly improves the working efficiency and uses intelligent battery with fast charging.
Application scenario: ideal for pesticide spraying in fruit forests.
This machine is not a high-temperature solution to heat the liquid, but to produce smoke from the steam, which will not damage the drug effect.
HBR T22-M MIST SPRAYING DRONE FEATURES
A new generation of fruit tree flying prevention experts:

1. Normal temperature fog, to ensure the effectiveness of the drug.
2. From top to bottom, 360 degrees without dead angle.
3. Adopt high-quality flight control, intelligent battery, the highest grade 7075 aviation aluminum structure, to ensure stable flight and safe operation.
4. GPS positioning function, autonomous flight function, terrain following function.
5. Exported to many countries and regions, high stability and durability can bring you more revenue..
HBR T22-M MIST SPRAYING DRONE PARAMETERS
| | |
| --- | --- |
| Material | Aerospace carbon fiber + Aerospace aluminum |
| Size | 2360mm*2360mm*640mm |
| Folded size | 1070mm*700mm*640mm |
| Weight | 21.5KG |
| Maximum takeoff weight | 44KG |
| Gasoline tank capacity | 1.5L |
| Pesticide barrel | 22L |
| Flight speed | ≤15m/s |
| Spray width | 4-6m |
| Fumigation equipment size | 920mm*160mm*150mm |
| Spray efficiency | ≥7ha/hour |
| Intelligent charger | AC Input 100-240V |
| Lithium-polymer battery | 12S 22000mAh*1 |
HBR T22-M MIST SPRAYING DRONE POSITIONING
Focus on efficient mist spraying of fruit trees and other cash crops

• With intelligent misting machine for fruit tree spraying.
• Solve the biggest pain point of fruit tree spraying - impermeable.
• Achieve the effect of all-round sterilization and pest control.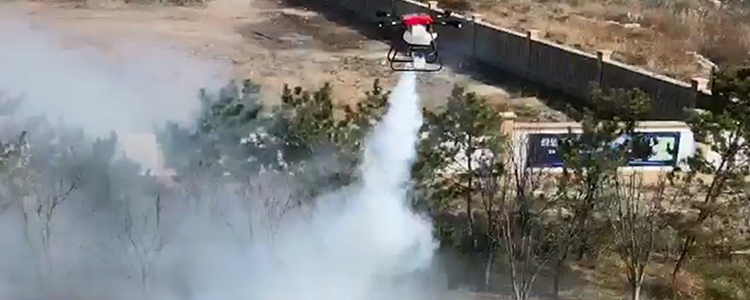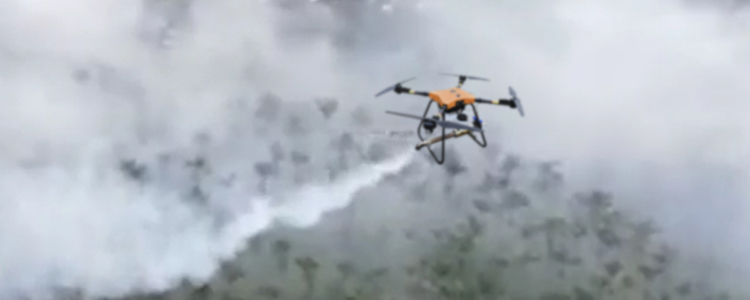 • The fog that comes out of the spray is 360 degrees without dead ends, and the drug comes into direct contact with harmful bacteria, so it can give full play to its effectiveness.
• The sprayed particles are less than 50 microns, they can float in the air for a long time, so it has the dual role of fumigation and disinfection.
• It is an ideal product for agricultural spraying pesticide, health epidemic prevention, forest epidemic prevention, disinfection and sterilization.
M5 Intelligent Mist Machine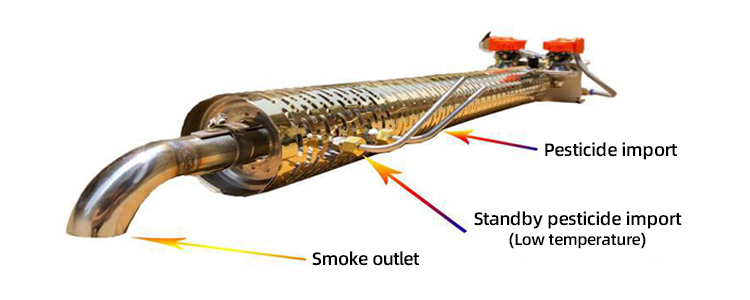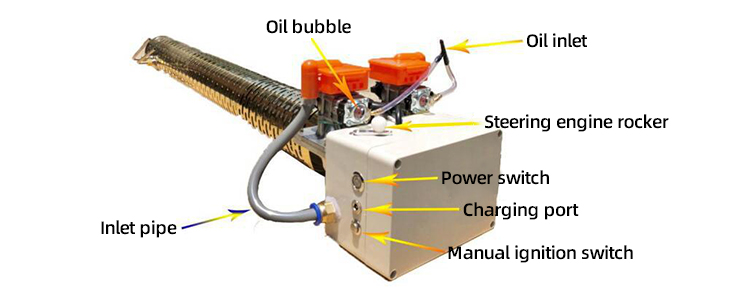 M5 intelligent mist machine work, pulse jet engine generated by high temperature and high pressure airflow, the liquid crushed and atomized from the nozzle into a fuming spray, high-speed spray and rapid diffusion, steam fumes effectively avoid the damage caused by high temperature heating of the drug effect.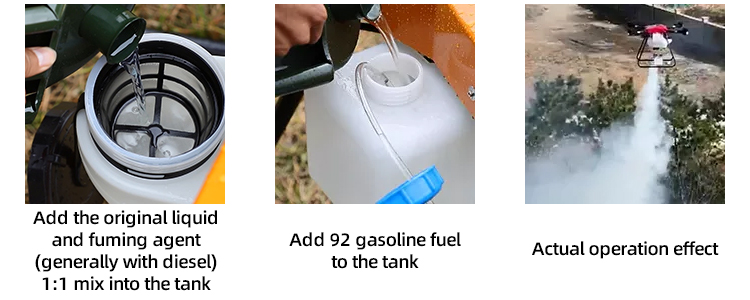 Intelligent Flight Control System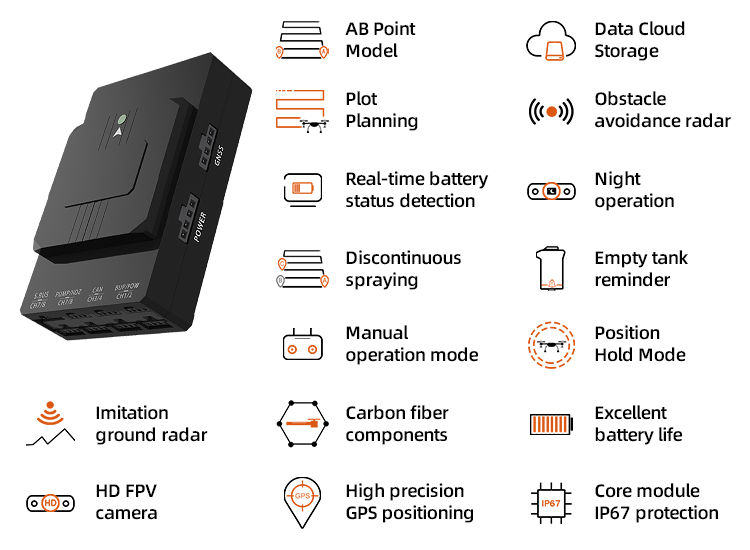 The system integrates high-precision inertial and satellite navigation sensors, sensor data pre-processing, drift compensation and data fusion in the full temperature range, and real-time acquisition of flight attitude, position coordinates, working status and other parameters to complete high-precision attitude and course control of multi-rotor UAV platforms.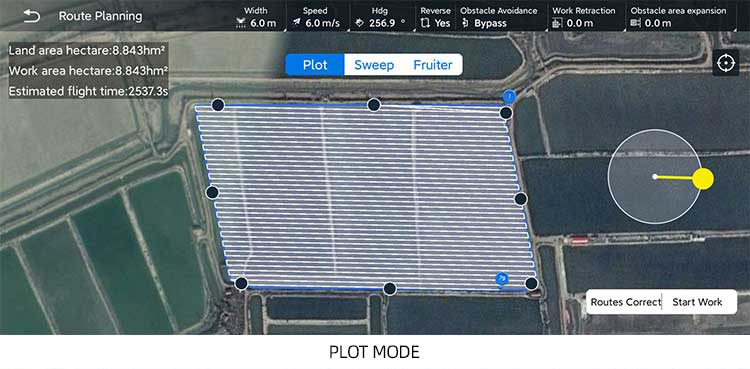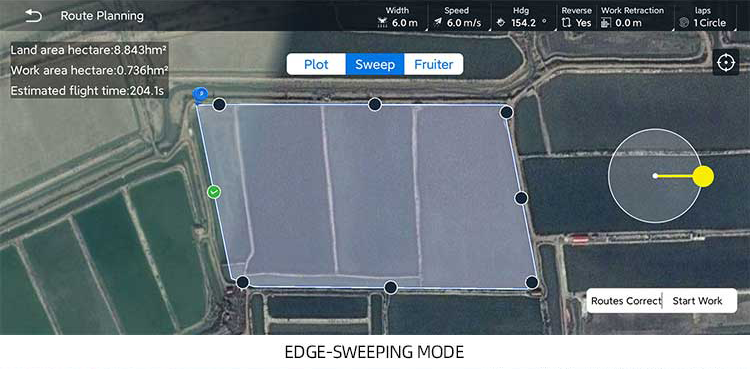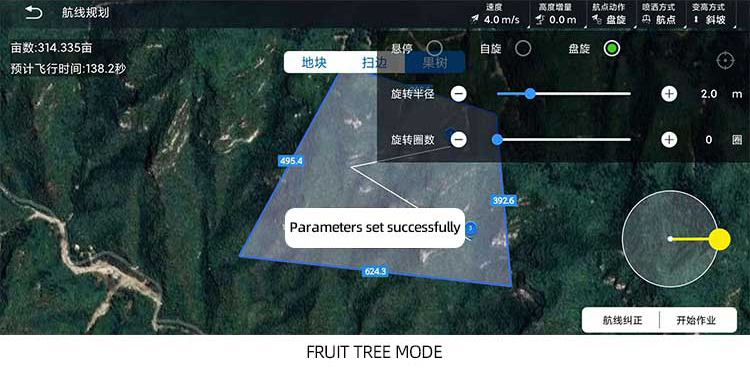 Three modes: plot mode, edge-sweeping mode, and fruit tree mode

• Plot mode is the common planning mode, and 128 waypoints can be added. Free to set the height, speed, obstacle avoidance mode and flight path of the drone spraying operation. Automatic uploading to the cloud, convenient for the next operation to adjust the reference use.
• Edge sweeping mode, the drone spraying operations on the boundary of the planning area, you can freely choose the number of circles of sweeping flight operations.
• Fruit tree mode, a special operation mode developed for fruit tree spraying, which can realize hovering, spin and hover at a certain point of the drone. According to the waypoint selection to achieve the whole or waypoint spraying. Free to adjust the height of the drone during fixed-point or slope operation to prevent accidents.
• Upload and share the planned plots, and the planting team can download and then edit and delete the plots through the cloud.
• After turning on the positioning, you can view the planned plots uploaded by other users within five kilometers to the cloud by yourself.
• Provide plot finding function, enter keywords in the search box, you can search and locate the plots and pictures that meet the search conditions to display.
HBR T22-M MIST SPRAYING DRONE CONFIGURATION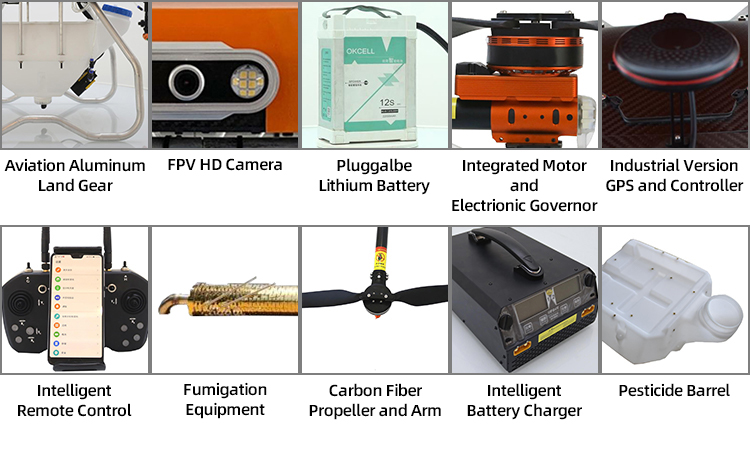 1. Who are we?
We are an integrated factory and trading company, with our own factory production and 65 CNC machining centers. Our customers are all over the world, and we have expanded many categories according to their needs.

2. How can we guarantee quality?
We have a special quality inspection department before we leave the factory, and of course it is very important that we will strictly control the quality of each production process throughout the whole production process, so our products can reach a 99.5% pass rate.

3. What can you buy from us?
Professional drones, unmanned vehicles and other devices with high quality.

4. Why should you buy from us not from other suppliers?
We have 19 years of production, R&D and sales experience, and we have a professional after sales team to support you.

5. What services can we provide?
Accepted Delivery Terms: FOB, CIF, EXW, FCA, DDP;
Accepted Payment Currency: USD, EUR, CNY;
Accepted Payment Type: T/T, L/C, D/P, D/A, Credit Card.
---
Previous:
Chinese Professional Cheap Fpv Drone Kit - Agricultural Farming Pesticide Sprayer 16L 20L 30L Fumigation Agricultural Drone Price – Hongfei
---