HGS T60 Hybrid Oil-Electric Drone – 60 Liter Agricultural Type
Product Detail
Product Tags
HGS T60 HYBRID OIL-ELECTRIC DRONE DETAIL
HGS T60 is an oil-electric hybrid drone, which can fly continuously for 1 hour and can spray 20 hectares of fields per hour, greatly improving the efficiency and ideal for large fields.
HGS T60 comes with sowing function, which can sow granular fertilizer and feed etc. while spraying pesticides.
Application scenario: It is suitable for spraying pesticides and spreading fertilizers on various crops such as rice, wheat, corn, cotton and fruit forests.
HGS T60 HYBRID OIL-ELECTRIC DRONE FEATURES
Standard Configuration
1. Android ground station, easy to use / PC ground station, full voice broadcast.
2. Router setting support, fully auto flight operation with A,B point operation.
3. One button take-off and landing, more safety and time saving.
4. Contrinue spraying at breakpoint, auto return when finish liquid and low battery.
5. Liquid detection, break point record setting.
6. Battery detection, low battery return and record point setting available.
7. Height control radar, stable altitude setting, suppoting imitative earth function.
8. Flying layout setting available.
9. Vibration protection, lost contect protective, drug cut protection.
10. Motor sequance detection and direction detection function.
11. Dual pump mode.

Enhance Configuration (Pls PM for more info)
1. Ascent or descent according to terrain imitative earth.
2. Obstacle avoidance function, surrounding obstacles detection.
3. Cam recorder, real-time transmission available.
4. Seed sowing function, additional seed spreader, or etc.
5. RTK precise positioning.
HGS T60 HYBRID OIL-ELECTRIC DRONE PARAMETERS
Diagonal wheelbase

2300mm

Size

Folded: 1050mm*1080mm*1350mm

Spreaded: 2300mm*2300mm*1350mm

Operation power

100V

Weight

60KG

Payload

60KG

Flight speed

10m/s

Spray width

10m

Max. takeoff weight

120KG

Flight control system

Microtek V7-AG (military brand)

Dynamic system

Hobbywing X9 MAX High Voltage Version

Spraying system

Pressure spray

Water pump pressure

7KG

Spraying flow

5L/min

Flight time

About 1 hour

Operational

20ha/hour

Fuel tank capacity

8L (Other specifications can be customized)

Engine fuel

Gas-electric hybrid oil (1:40)

Engine displacement

Zongshen 340CC / 16KW

Maximum wind resistance rating

8m/s

Packing box

Aluminum box
HGS T60 HYBRID OIL-ELECTRIC DRONE REAL SHOT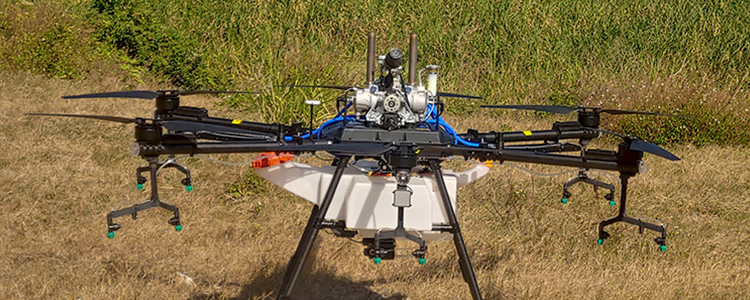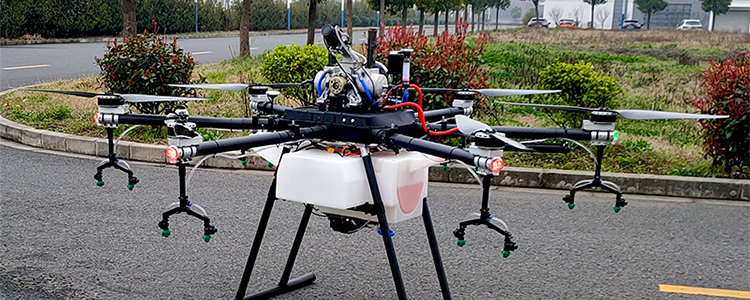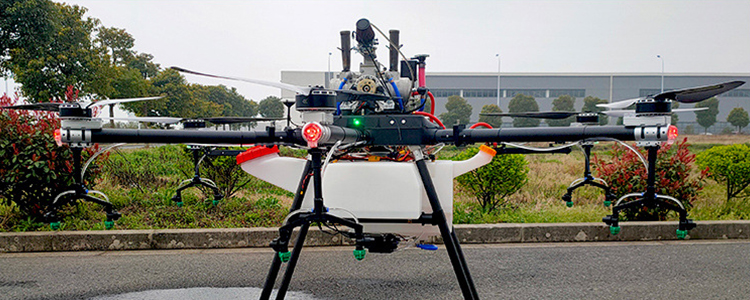 STANDARD CONFIGURATION OF HGS T60 HYBRID OIL-ELECTRIC DRONE

OPTIONAL CONFIGURATION OF HGS T60 HYBRID OIL-ELECTRIC DRONE

1. What voltage specification does the product support?Are custom plugs supported?
It can be customized according to the customer's needs.

2. Does the product have instructions in English?
have.

3. How many languages do you support?
Chinese and English and support for multiple languages (more than 8 countries, specific reconfirmation).

4. Is the maintenance kit equipped?
allocate.

5. Which ones are in the no-fly areas
According to the regulations of each country, follow the regulations of the respective country and region

6. Why do some batteries find less electricity after two weeks after being fully charged?
Smart battery has self-discharge function. In order to protect the battery's own health, when the battery is not stored for a long time, the smart battery will execute self-discharge program, so that the power remains about 50% -60%

7. Is the battery LED indicator changing color broken?
When the battery cycle times reach the required life of the cycle times when the battery LED light change color, please pay attention to slow charging maintenance, cherish use, not damage, you can check the specific use through the mobile phone APP
---
---