New T10 Intelligent Plant Protection Drone Uav Spray 10L Agricultural Spray Pesticides Drone for Agriculture Price
Product Detail
Product Tags
Basic Info.
Material
Frame: Aviation Aluminum
Medicine Box Capacity
10L
Dimension (Unfold)
1152*1152*630mm (Unfoldable)
Dimension (Fold)
666.4*666.4*630mm (Foldable)
Operational Efficiency
5.4ha/H
Nozzle
4 High Pressure Fan Nozzle
Power Battery
12s 14000mAh
Max. Flight Speed
10m/S (GPS Mode)
Obstacle Avoidance Detect Range
2~12m
Transport Package
783mm*783mm*670mm
Specification
1152*1152*630mm
Product Description
HTU T10

Flight Parameters

Outline dimension

1152*1152*630mm (Unfoldable)

Hovering time

666.4*666.4*630mm (Foldable)

Width of spray

Operation height

Maximum flow

Max. flight speed

Medicine box capacity

Horizontal/Vertical±10cm (RTK)

Operational efficiency

(GNSS signal good)

Weight

Accurate altitude hold of radar

Power battery

Altitude hold range

Nozzle

4 high pressure fan nozzle

Obstacle avoidance detect range
HIGH COST PERFORMANCE

– PLANT PROTECTION
·Reliable ·Efficient ·Durable ·Easy-to-use

ReliableMultiple Guarantees

Dual antenna, RTK
Independent magnetic compass

Front and rear obstacle avoidance radar

Ground simulating radar

The perception accuracy is ± 10cm, which can effectively avoid common obstacles such as electric poles and trees.

There are mountain and flat land.Detection range ± 45.

Drug saving, repeated spray prevention and leak proof spray
·Full range of dosage: the dosage is monitored through the liquid level sensor and can be displayed on the remote control screen ·Detection flow rate: through flowmeter·Dual water pump, spraying with speed:Fast speed: the faster the spraying is when the two pumps are fully opened Slow speed(<2m/s): Fly forward and spray with rear nozzleFly back and spray with the front nozzle·More uniform atomization:
130μm-250μmFine spraying, suitable for agricultural operation
·Large blades, strong downforce wind field and strong penetration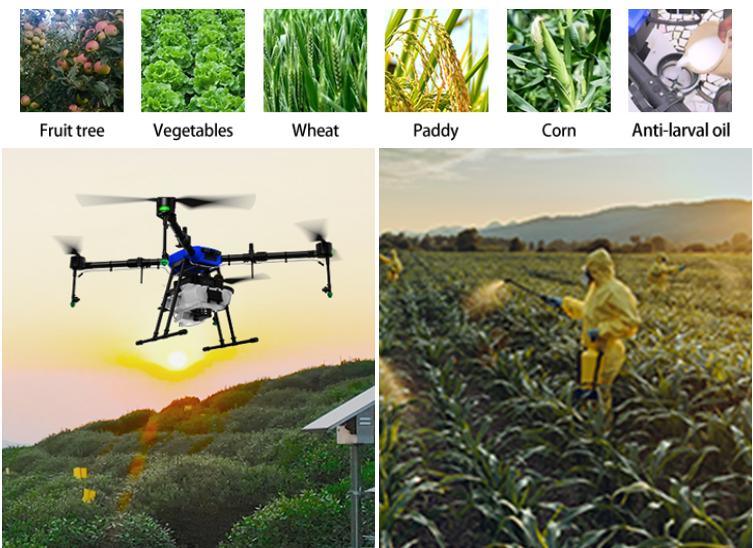 | | |
| --- | --- |
| ·43 ha/day, 60 times more artificial. | ·0.7 ha/day. |
| ·Safer without contact. | ·Pesticide injury. |
| ·Uniform spraying, provincial medicine. | ·Re-spray, spray leakage. |
| ·Disinfection in isolation area. | ·Manual operation in isolation area is easy to be infected. |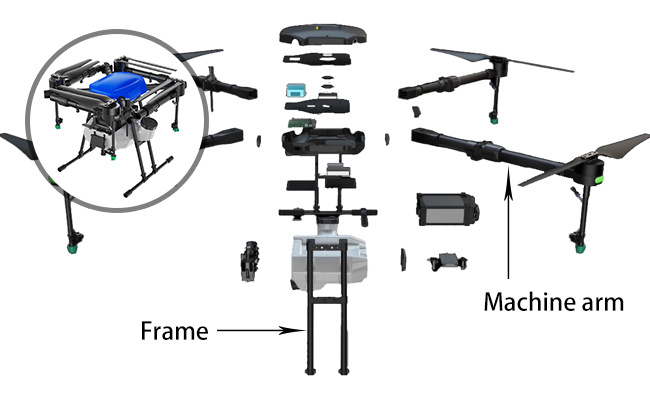 Modular Design
-Easy to Replace Accessories-
·Frame: Aviation aluminum
High strength, light weight and corrosion resistance
·M
achine arm: C

arbon fibre
High specific strength and high specific stiffness, lighter, increased effective load, extended flight distance and flight time
·
Filter screen – Triple support
1. Intake 2. Medicine box bottom 3. Nozzle
Easy-to-use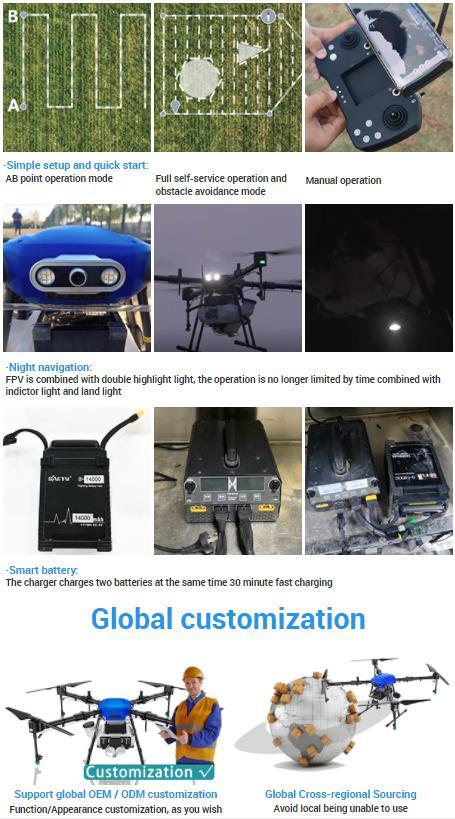 1> Our supply is sufficient to guarantee the customers' demand, Various of agricultural drones can guarantee the needs of most people.
2> Where you can buy the products you are interested in, at the meantime the customers can enjoy the long-term technical advisory services in our company.3> We offer the OEM/ODM services for our products meet your special needs.4> Our advantages and quick delivery, competitive prices, high quality and long term service to our customers.5> There is a long-term cooperation with the shipping couriers, can make the goods more quickly and efficiently deliver.6> We will provide best after sale service for the customers. You are welcomed to visit our factory and have some training for the Agricultural Drone after sale services. Anyway, we will try our best to meet your requirements.7> We can offer the certifications that you need, and also help you to pass your official certifications.

Haojing International Trade Co., Ltd.
Haojing International Trade Co., Ltd. is a well-known manufacturer in China for many years. Our factory was established in 2003.
Our products include UAV, UGV,UAV parts, etc. Our products have passed ISO certification and CE certification and patent certificates.
Our company iscommitted to providing global customers with high-quality mechanical and electrical products and complete sets of solutions, andproviding one-stop procurement services.We conforms to market demand, takes technological innovation, customer first, and good quality as our concepts, based on ouractive actions and hard work, opened overseas markets successfully.At present, we have an extensive sales network with customers all over the world, including the United States, Mexico, Russia,Portugal, Turkey, Pakistan, South Korea, Japan and Indonesia. Our products have covered distributors and agents in all Europeancountries.Our main manufacturing plant is located in Shanghai, China, with a stable and highly skilled labor force. We are willing toprovide you with unique products that are not only attractive, but also practical and competitive.We know for a company to develop an enviable reputation,it needs to do much efforts so that favor to the needs of differentclients. We are in trying its best effort to play a pivotal role in this field. Waiting for more cooperation partners to join us.

1. Who are we? We are an integrated factory and trading company, with our own factory production and 65 CNC machining centers. Our customers are all over the world, and we have expanded many categories according to their needs. 2. How can we guarantee quality? We have a special quality inspection department before we leave the factory, and of course it is very important that we will strictly control the quality of each production process throughout the whole production process, so our products can reach a 99.5% pass rate. 3. What can you buy from us? Professionaldrones, unmanned vehiclesand other devices with high quality. 4. Why should you buy from us not from other suppliers? We have 18 years of production, R&D and sales experience, andwe have a professional after sales team to support you. 5. What services can we provide? Accepted Delivery Terms: FOB,CIF,EXW,FCA,DDP; Accepted Payment Currency:USD,EUR,CNY; Accepted Payment Type: T/T,L/C,D/P D/A,Credit Card;
---
Previous:
Stable 10L 4-6m Spray Width Agriculture Pesticide Uav T10 RC Agricultural Sprayer Drone for Sale
Next:
Easy Operation Long Distance 10L Payload Nozzle Spray Uav Remote Control Obstacle Avoidance Agricultural Drone with Price
---