High Efficient 72L Fish Feeding Orchard Drone Prices Long Range Dron 75kg Large Capacity Remote Control Farming Uav Agricultural Spraying Drone
Product Detail
Product Tags
Basic Info.
Material
Frame: Aviation Aluminum
Sprayer Type
Unmanned Aerial Vehicle (Uav)
Product Material
Aviation Carbon Fiber + Aviation Aluminum
Airframe Dimensions
3920mm* 3920mm* 850mm
Transport Dimensions
2020mm*1060mm*950mm
Spray Efficiency
>28 Hectares/Hour
Battery Capacity
42000mAh*2
Spray System
Imported High Pressure Anti-Floating Atomizing Noz
Transport Package
2020mm*1060mm*950mm
Specification
3920mm* 3920mm* 850mm
Product Description
Product material

Aviation carbon fiber + aviation aluminum

Max. extended size

3920mm* 3920mm* 850mm

Arm folded size

1050mm* 900mm* 2000mm

Packaging size

2020mm* 1060mm* 950mm

Maximum takeoff weight

200 KG

Aircraft weight

51 KG

Pesticide barrel

72 L

Flight altitude

≤20 meters

Fly time

7~20 minutes (unloaded)

10~13 minutes when fully loaded (loaded)

Flight speed

1-10 m/sec

Structure lift span

≥10 years

Hovering in the air

Hovering in any direction

Spray width

8~20 meters

Spray flow

8-15 L/min

Spray system

Imported high pressure anti-floating atomizing nozzle

Spray efficiency

≥28 hectares/hour

Atomization point size

110~400 μm

Fly control

Industrial Version GPS and Controller

Safe takeoff and landing wind speed

≤ Level 5

Power system

60.9V power polymer computer battery

Charger

AC Input 100-240V

Lithium – polymer battery

42000 mAh* 2
HBR T72
·Efficient ·Stable ·Easy to use ·Durable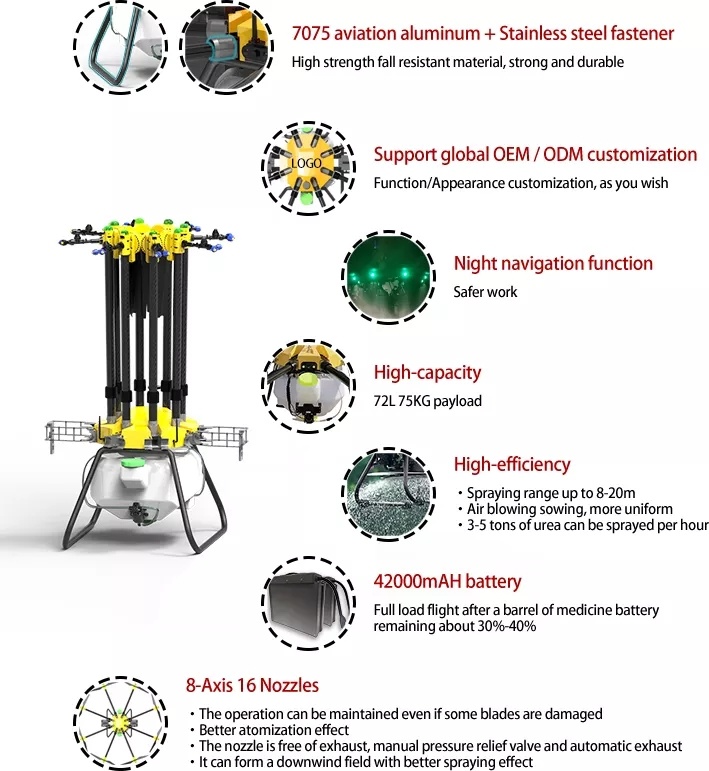 Strength comparison
Suitable for spraying all kinds of crops and fruit trees; Fish and shrimp feed sowing: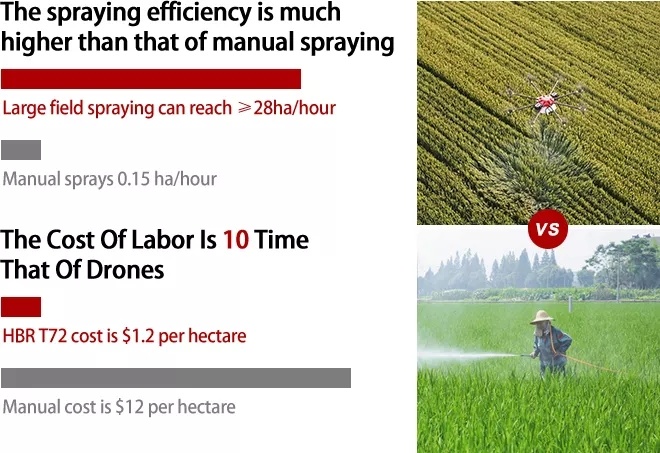 Compared with artificial, UAV sowing feed is more time-saving,labor-saving and material-saving.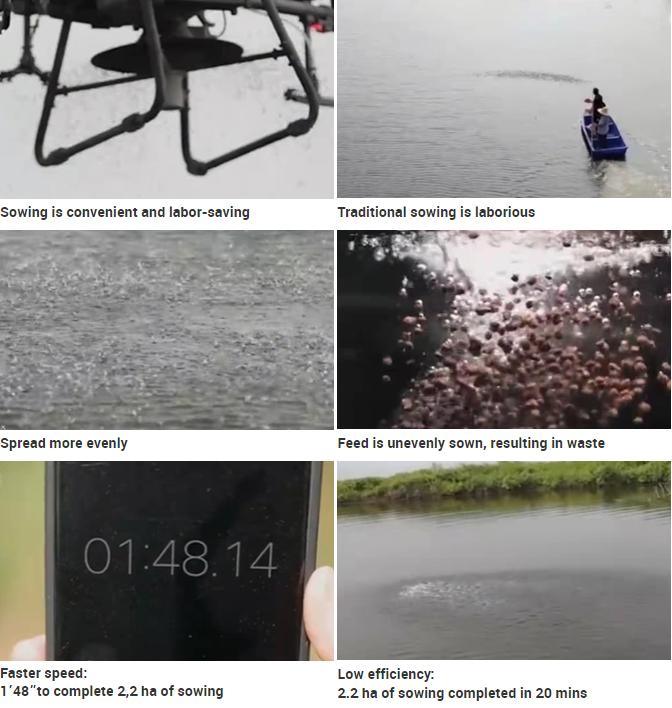 Orchard spraying by UAV is more efficient

UAVs are also widely used in pest control and disease control: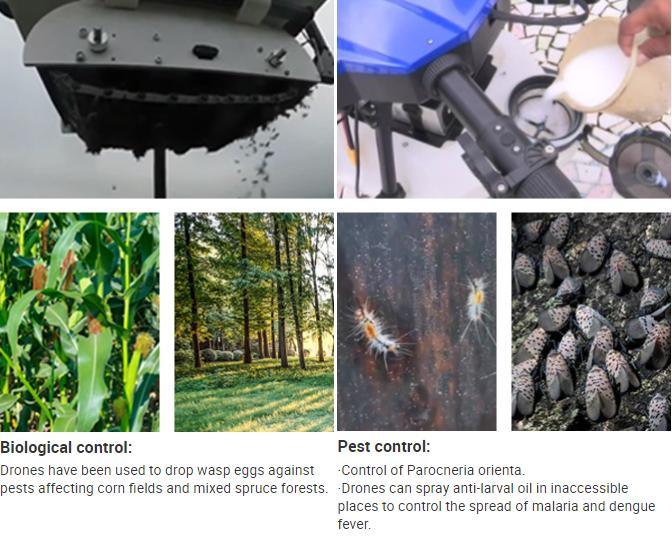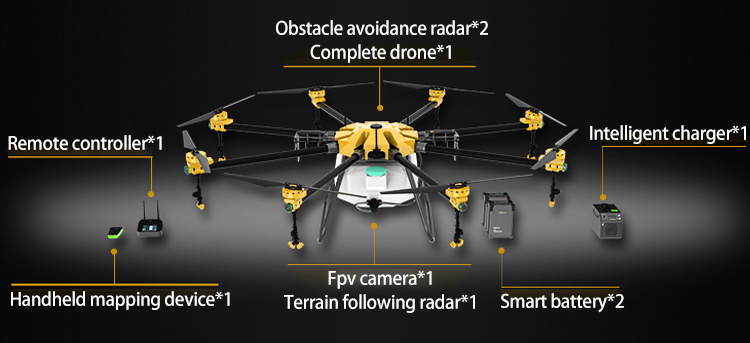 1.Remote Controller H12:
Smart operating system 5.5-inch high definition screen.
2.42000mAH Smart Battery: Energy saving, high redundancy – full load flight after a barrel of medicine battery remaining about 30%-40%.
3.Fast Charge Four Port Charger:
Shorten the charging time to 30 minutes realize cyclic work.
4.Intelligent Flight Control: Achieve full autonomous operation.

5.High-pressure Atomization Nozzle: Excellent work efficiency, achieve rapid spraying of 28 ha/hour.
6.
Obstacle Avoidance Radar:
Scan for obstacles within 15 meters ahead; Realize fast and accurate braking.
7.Terrain Following Radar:
Real-time monitoring of terrain and quick response.
8.
Power System:
X10 motor have a quick and sensitive operating experience.Help drone spray evenly and efficiently.
Why Choose Us
1> Our service network is sufficient to guarantee the needs of our customers, a perfect and continuous solution can guarantee the needs of
most
customers.
2> One-stop sourcing provides you with a perfect supply chain of plant protection products, saving your purchasing cost and time cost with high efficiency and quality. You can also enjoy our long-term technical consulting services.3> We support OEM/ODM service to meet your special needs.4> Price, information, quality, program, after-sales, a full range of standardized support services for our agents to win more opportunities and competitiveness, making cooperation so easy and efficient.5> Based on the absolute advantage of factory network, we have long-term cooperation with logistics, which can make the productsdelivered faster and more efficiently.6> We will provide the best after-sales service for our customers. You are welcome to visit our factory and receive after-sales service training. No matter what, we will try our best to meet your requirements.

Haojing International Trade Co., Ltd.
Haojing Electromechanical is a well-known brand manufacturer in China for many years, established in 2003, our factory is located in Shanghai, China, with a stable and highly skilled workforce, we are a high-tech enterprise in China ,we are a professional plant protection solution provider.
We specialize in agricultural plant protection drones and plant protection application solutions. We insist on using high quality key components to ensure stable and reliable product quality.
Our products have passed ISO certification and CE certification and have a number of patent certificates. We have a professional R&D team and a strong after-sales service team to provide customized solutions for our customers, and we also have rich experience in OEM and ODM. We have a perfect and continuous service program from product solution design and production, to transportation, installation and commissioning, and then to after-sales service. With our business philosophy of service first and quality first, we are committed to providing professional solutions for our partners in the plant protection industry and creating a perfect supply chain of plant protection products.
Our products are sold well in China and exported all over the world, including the United States, Mexico, Russia, Portugal, Turkey, Pakistan, Korea, Japan and Indonesia, and we have covered distributors and agents in many European countries
,
we have gained the satisfaction of our customers for the quality of our products and services.
We have established long-term relationships with our suppliers and have absolute advantages in terms of price and delivery.
We can provide you with unique products that are not only attractive, but also practical and competitive.
Welcome more partners to join us.

1. Who are we? We are an integrated factory and trading company, with our own factory production and 65 CNC machining centers. Our customers are all over the world, and we have expanded many categories according to their needs. 2. How can we guarantee quality? We have a special quality inspection department before we leave the factory, and of course it is very important that we will strictly control the quality of each production process throughout the whole production process, so our products can reach a 99.5% pass rate. 3. What can you buy from us? Professionaldrones, unmanned vehiclesand other devices with high quality. 4. Why should you buy from us not from other suppliers? We have 18 years of production, R&D and sales experience, andwe have a professional after sales team to support you. 5. What services can we provide? Accepted Delivery Terms: FOB,CIF,EXW,FCA,DDP; Accepted Payment Currency:USD,EUR,CNY; Accepted Payment Type: T/T,L/C,D/P D/A,Credit Card;
---
Previous:
Professional T72 Fumigation Drone Camera Large Fpv Drones Long Distance Intelligent Remote Control Crop Spray Agricultural Spraying Drone with 42000mAh Battery
Next:
High Efficient Farming Tools Pesticide Sprayer 75kg Binocular Heavy Payload Drone for Spraying Agricultural
---