New 60L Payload Crop Spraying Drone 6-Axis Agricultural Drones for Sale
Product Detail
Product Tags
Diagonal wheelbase

2300mm

Size

Folded: 1050mm*1080mm*1350mm

Spreaded: 2300mm*2300mm*1350mm

Operation power

100V

Weight

60KG

Payload

60KG

Flight speed

10m/s

Spray width

10m

Max. takeoff weight

120KG

Flight control system

Microtek V7-AG

Dynamic system

Hobbywing X9 MAX High Voltage Version

Spraying system

Pressure spray

Water pump pressure

7KG

Spraying flow

5L/min

Flight time

About 1 hour

Operational

20ha/hour

Fuel tank capacity

8L (Other specifications can be customized)

Engine fuel

Gas-electric hybrid oil (1:40)

Engine displacement

Zongshen 340CC / 16KW

Maximum wind resistance rating

8m/s

Packing box

Aluminum box
HF T60H is an oil-electric hybrid drone, which can fly continuously for 1 hour and can spray 20 hectares of fields per hour, greatly improving the efficiency and ideal for large fields. HF T60H comes with sowing function, which can sow granular fertilizer and feed etc. while spraying pesticides.Application scenario: It is suitable for spraying pesticides and spreading fertilizers on various crops such as rice, wheat, corn, cotton and fruit forests.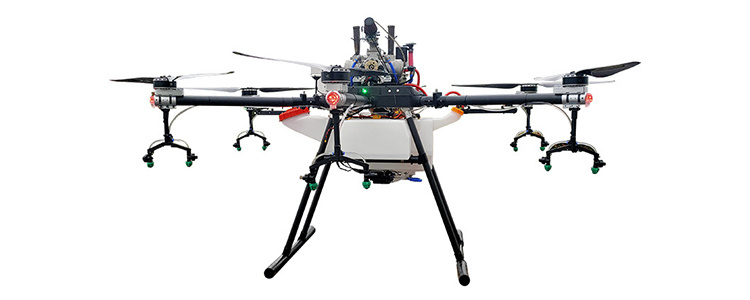 Features
Standard Configuration
1. Android ground station, easy to use / PC ground station, full voice broadcast.
2. Routersetting support, fully auto flight operation with A,B point operation.
3. One button take-off and landing, more safety and time saving.
4. Contrinue spraying at breakpoint, auto return when finish liquid and low battery.
5. Liquid detection, break point record setting.
6. Battery detection, low battery return and record point setting available.
7. Height control radar, stable altitude setting, suppoting imitative earth function.
8. Flying layout setting available.
9. Vibration protection, lost contect protective, drug cut protection.
10. Motor sequance detection and direction detection function.
11. Dual pump mode.
Enhance Configuration(Pls PM for more info)
1. Ascent or descent according to terrain imitative earth.
2. Obstacle avoidance function, surrounding obstacles detection.
3. Cam recorder, real-time transmission available.
4. Seed sowing function, additional seed spreader, or etc.
5. RTK precise positioning.
Product Real Shot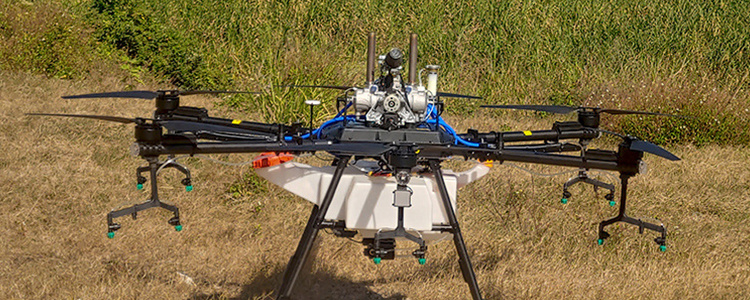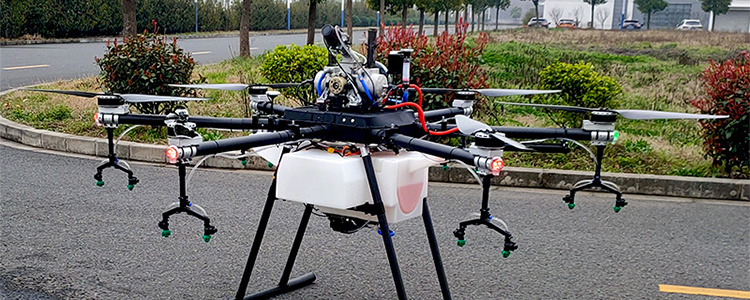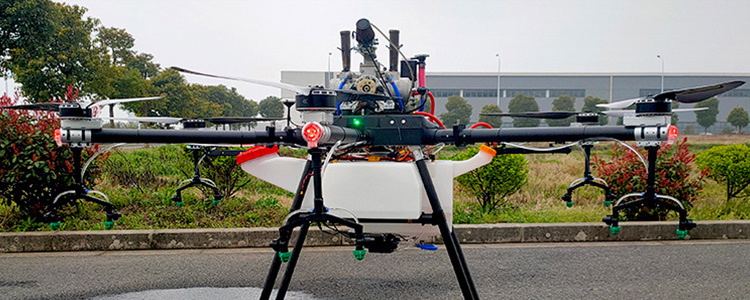 1.What is the best price for your product?
We will quote based on the quantity of your order, the higher the quantity the higher the discount.
2.What is the minimum order quantity?
Our minimum order quantity is 1 unit, but of course there is no limit to the number of units we can purchase.
3.How long is the delivery time of the products?
According to the production order dispatch situation, generally 7-20 days.
4.What is your payment method?
Wire transfer, 50% deposit before production, 50% balance before delivery.
5.What is your warranty time? What is the warranty?
General UAV frame and software warranty of 1 year, the warranty of wearing parts for 3 months.
---
Next:
High Efficiency Portable 60L Agriculture Drone Sprayer Remote Control Application Drone in Agricultural
---