HF C30/C50 Agriculture Drone – 30/50 Liter 4-axis Foldable Transportation
Product Detail
Product Tags
DRONE SYSTEM

C30

C50

Unloaded Spraying drone weight (without batteries)

29.8kg

31.5kg

Unloaded Spraying drone weight (with batteries)

40kg

45kg

Unloaded Spreading drone weight (without battery)

30.5kg

32.5kg

Unloaded Spreading drone weight (without battery)

40.7kg

46kg

Max Take-off weight

70kg

95kg

Wheelbase

2025mm

2272mm

Expand Size

Spraying drone:2435*2541*752mm

Spraying drone:2845*2718*830mm

Spreading drone:2435*2541*774mm

Spreading drone:2845*2718*890mm

Folded size

Spraying drone:979*684*752mm

Spraying drone:1066*677*830mm

Spreading drone:979*684*774mm

Spreading drone:1066*677*890mm

No-load hovering time

17.5min(Test by 14S 30000mah)

20min(Test by 18S 30000mah)

Full load hovering time

7.5min(Test by 14S 30000mah)

7min(Test by 18S 30000mah)

Working temperature

0-40ºC
Hongfei C Series Agricultural Drone
Choose between 30kg and 50kg load models, new high-strength truss fuselage structure, wiring-free integrated grouped flight control, with high-flow impeller pumps and water-cooled centrifugal spray nozzles, the deep integration of software and hardware, to realize the whole machine intelligent sensing.
 

New structure

 
 
 

Z-Type Folding

Minish folding size, easy transport

Truss Structure

Double the strength, sturdy and durable

Press-Locking Handle

Intelligent sensor, convenient operation, sturdy&durable

New experience

 
 
 

Double Clamshell Inlets

Big dual inlets, easy pouring

Tool-Free Housing

Simple built-in buckle, quick disassembly

Front High Tail Low

Effective reduction of wind resistance

Fully Interconnection, Aptitude Upgrade

 
 
 

Ultrasonic Flowmeter

Separating detection, stable and reliable

High Precision Weighing Modules

Real-time detection to avoid overloading

Intelligent Feedback Module

Constantly status detection, early warning of faults

 
 
 

Integrated Flight Control

Wiring-free and debugging-free, enabling fast installation

Grouping Modular Design

Separate modules of flight control, RTK module and receiver module.

Plug-in connection, flexible configuration

Optimize Arrangement, Upgrade Waterproofing

Deeply optimized wire layout, orderliness and easy to repair, optimizing plug with waterproof terminal, more reliable performance
Efficient Spraying, Hearty Flow
-New spraying system, equipped with bilateral high-flow impeller pumps, abundant flow, efficient operation.
-Equipped with ultrasonic flow meter, the sensor and liquid are detected separately, which makes the performance more stable and the precision more accurate.
-Unique water-cooled centrifugal spray nozzle, effectively reduce the temperature of motor adjustment, increase service life.
-Large atomization radius, bringing a new spraying experience.
SPRAYING SYSTEM

C30

C50

Spraying tank

30L

50L(recommend 45L)

Water pump

Volt:12-18S / Power:30W*2 / Max flow:8L/min*2

Nozzle

Volt:12-18S / Power:500W*2 / Atomized particle size:50-500μm

Spray width

4-8m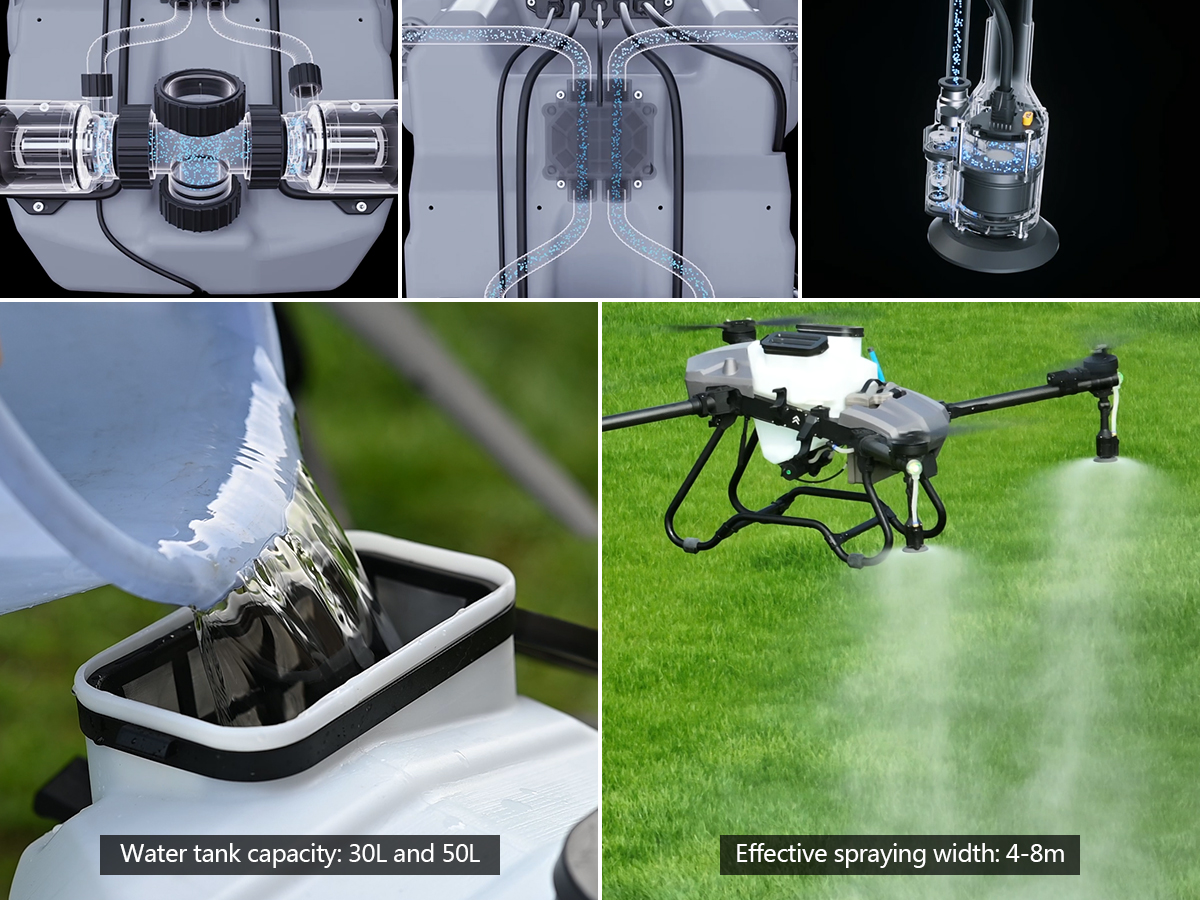 Precise Spreading, Smooth Sowing
-Integrated tank design, quickly change spraying and spreading in one step, convenient and fast.
-Super large inlets, greatly enhance the loading efficiency.
-Bow-shaped tripod design, effectively avoid the collision of broadcasting particles.
SPREADING SYSTEM

C30

C50

Spreading tank

50L

70L

Max load

30kg

50kg

Applicable granule

0.5-6mm dry solids

Spread width

8-12m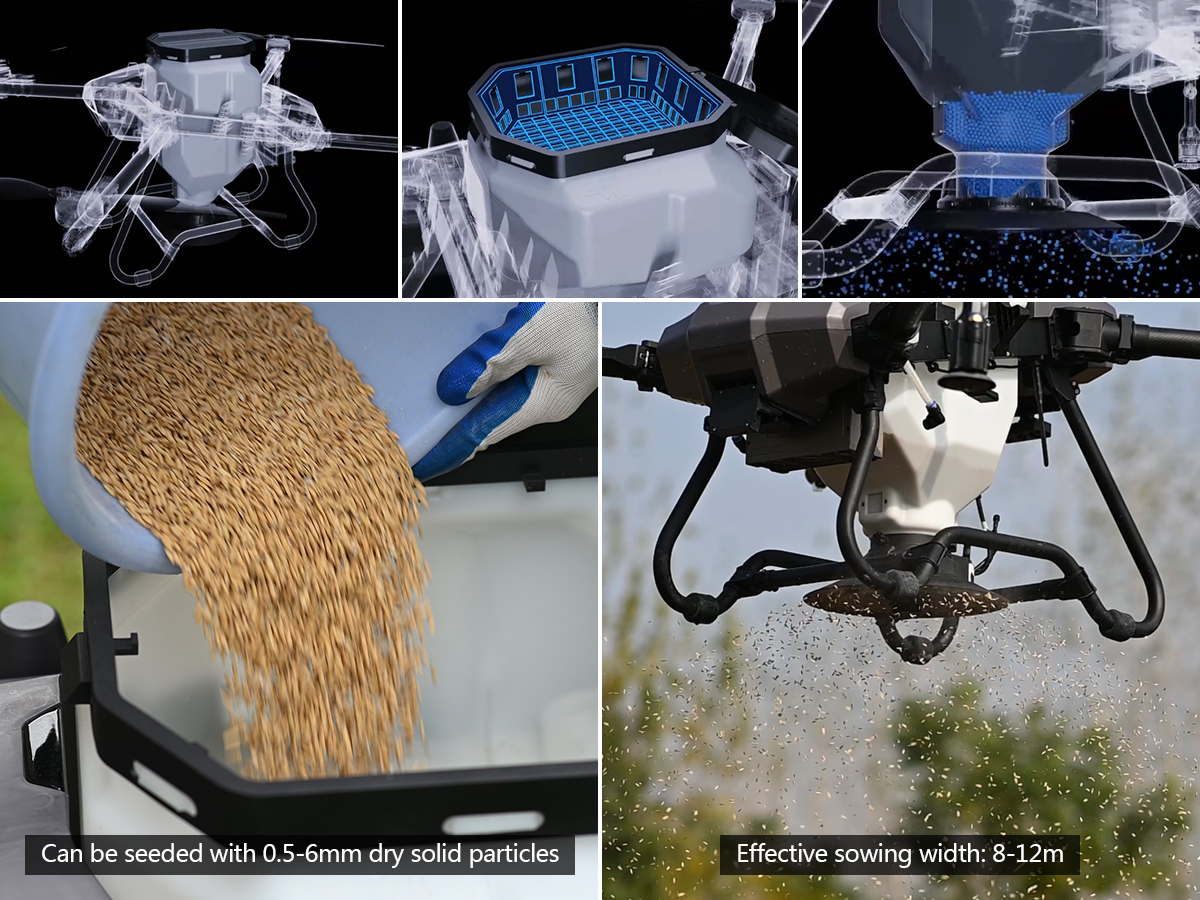 IP67, Integrally Waterproof
-The whole drone is upgraded waterproof from the inside to the outside, Motherboard integral potting, plug with waterproof terminal, sealed all core modules.
-The whole drone achieves immersion waterproof, easily cope with various harsh working environments.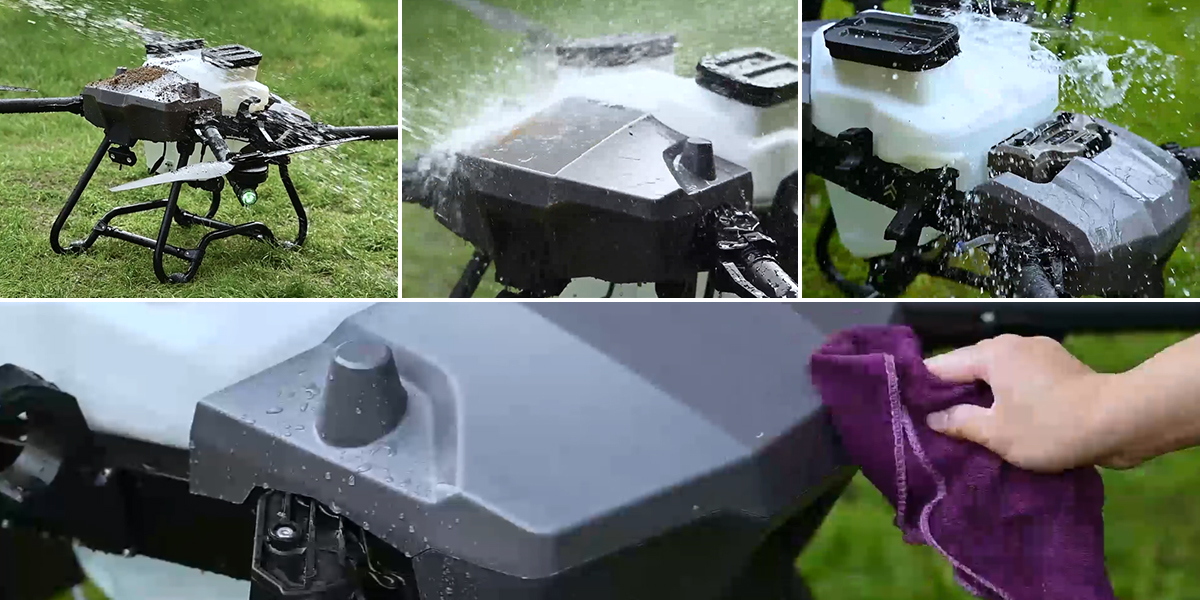 Common Structure, Convenient Maintenance
30L/50L universal structure, more than 95% of the parts are common. Which makes it easy to prepare the spare parts and effectively reduce the maintenance costs. Simplify assembly process and improve production efficiency.
Product Dimension Drawing

C30

C50

 
 
FAQ
1.What is the best price for your product?
We will quote based on the quantity of your order, the higher the quantity the higher the discount.
2.What is the minimum order quantity?
Our minimum order quantity is 1 unit, but of course there is no limit to the number of units we can purchase.
3.How long is the delivery time of the products?
According to the production order dispatch situation, generally 7-20 days.
4.What is your payment method?
Wire transfer, 50% deposit before production, 50% balance before delivery.
5.What is your warranty time? What is the warranty?
General UAV frame and software warranty of 1 year, the warranty of wearing parts for 3 months.
---
---