HBR T30 Plant Protection Drone – 30 Liter Agricultural Type
Product Detail
Product Tags
HBR T30 PLANT PROTECTION DRONE DETAIL
The 30-liter agricultural drone can be used in a wide range, from farmland to small bush spraying. It has an operating efficiency of 18 hectares per hour, and the body is foldable. It is a good helper for agricultural spraying.
Compared with manual drone spraying, there is an incomparable advantage, that is, the spraying is more uniform. A 30-liter agricultural drone is used for rice spraying, with a load of 30 liters or 45 kg, and the flight speed, flying height, and spraying volume are all controllable.
HBR T30 PLANT PROTECTION DRONE FEATURES
1. Integrated brushless water pump - maximum water output of 10L per minute, intelligent adjustment.
2. Double high-pressure nozzle design - 10m effective spray width.
3. High efficiency spraying - 18ha/h.
4. Variable rate spray control - real-time flow rate adjustment.
5. High-pressure atomization effect - atomized particles 200~500μm.
6. Intelligent flowmeter - empty tank dosage reminder.
HBR T30 PLANT PROTECTION DRONE PARAMETERS
| | |
| --- | --- |
| Material | Aerospace carbon fiber + Aerospace aluminum |
| Size | 3330mm*3330mm*910mm |
| Package size | 1930mm*1020mm*940mm |
| Weight | 33KG (excluding battery) |
| Payload | 30L/35KG |
| Maximum flight altitude | 4000m |
| Maximum flight speed | 10m/s |
| Spray rate | 6-10L/min |
| Spraying efficiency | 18ha/hour |
| Spraying width | 6-10m |
| Droplet size | 200-500μm |
STRUCTURAL DESIGN OF HBR T30 PLANT PROTECTION DRONE
• With a symmetrical multi-redundant eight-axis design, the HBR T30 has an effective spray width of over 10 meters, the most in its class.
• The fuselage is made of carbon fiber material with integrated design to ensure structural strength.
• The arms can be folded up 90 degrees, saving 50% of the transport volume and facilitating transit transport.
• The HBR T30 platform can carry up to 35KG for operation and realize fast spraying.
SPREADING SYSTEM OF HBR T30 PLANT PROTECTION DRONE

• Adapted to two sets of HBR T30/T52 UAV platforms.
• The spreading system supports different diameter particles from 0.5 to 5mm for operation.
• It supports seeds, fertilizers, fish fry and other solid particles.
• The maximum spraying width is 15 meters, and the spreading efficiency can reach 50kg per minute.
• The rotating speed of dumping disk is 800~1500RPM, 360° all-round spreading, even and no leakage, ensuring the efficiency and effect of operation.
• Modular design, quick installation and disassembly. Support IP67 waterproof and dustproof.
INTELLIGENT FLIGHT CONTROL SYSTEM HBR T30 PLANT PROTECTION DRONE
M5 intelligent mist machine work, pulse jet engine generated by high temperature and high pressure airflow, the liquid crushed and atomized from the nozzle into a fuming spray, high-speed spray and rapid diffusion, steam fumes effectively avoid the damage caused by high temperature heating of the drug effect.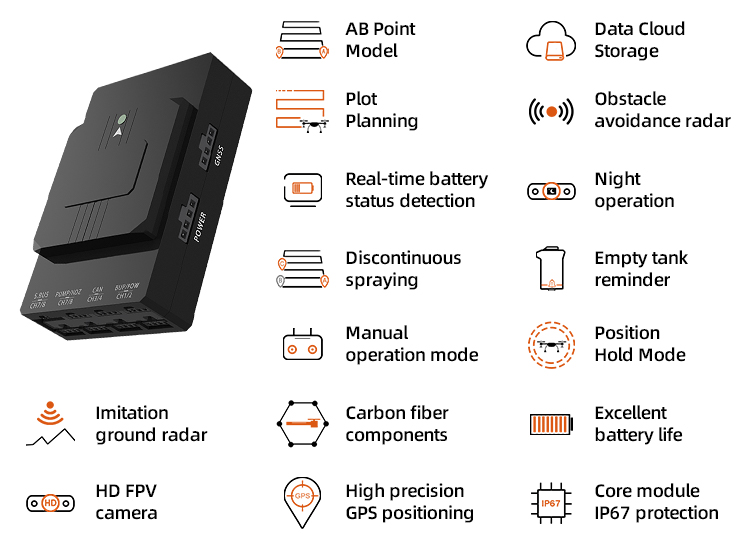 The system integrates high-precision inertial and satellite navigation sensors, sensor data pre-processing, drift compensation and data fusion in the full temperature range, and real-time acquisition of flight attitude, position coordinates, working status and other parameters to complete high-precision attitude and course control of multi-rotor UAV platforms.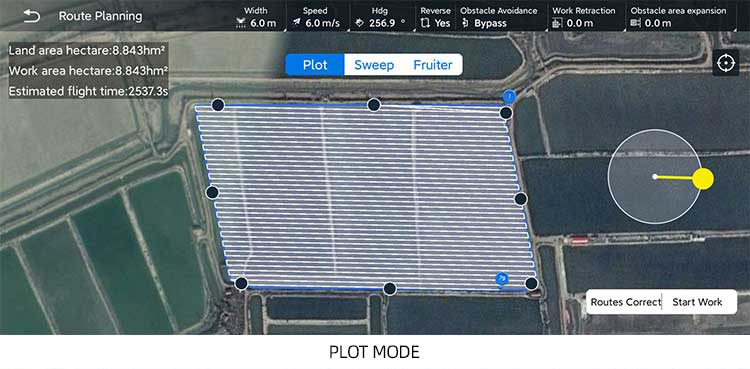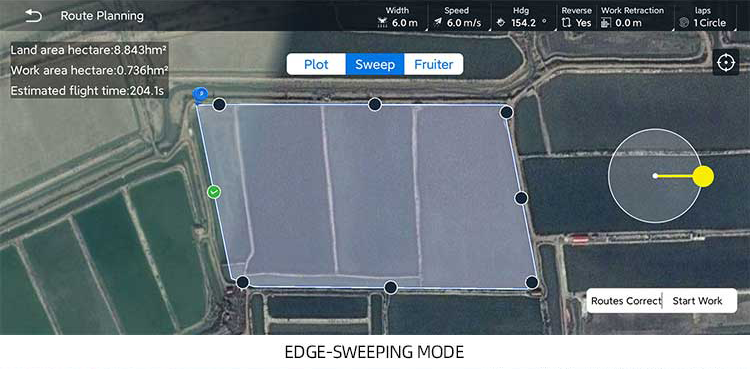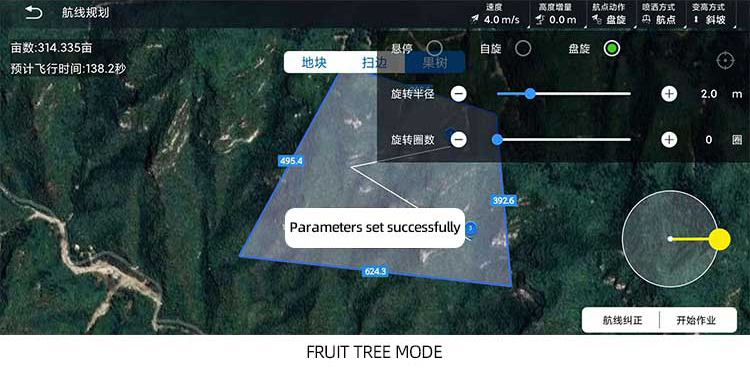 Three modes: plot mode, edge-sweeping mode, and fruit tree mode

• Plot mode is the common planning mode, and 128 waypoints can be added. Free to set the height, speed, obstacle avoidance mode and flight path of the drone spraying operation. Automatic uploading to the cloud, convenient for the next operation to adjust the reference use.
• Edge sweeping mode, the drone spraying operations on the boundary of the planning area, you can freely choose the number of circles of sweeping flight operations.
• Fruit tree mode, a special operation mode developed for fruit tree spraying, which can realize hovering, spin and hover at a certain point of the drone. According to the waypoint selection to achieve the whole or waypoint spraying. Free to adjust the height of the drone during fixed-point or slope operation to prevent accidents.
• Upload and share the planned plots, and the planting team can download and then edit and delete the plots through the cloud.
• After turning on the positioning, you can view the planned plots uploaded by other users within five kilometers to the cloud by yourself.
• Provide plot finding function, enter keywords in the search box, you can search and locate the plots and pictures that meet the search conditions to display.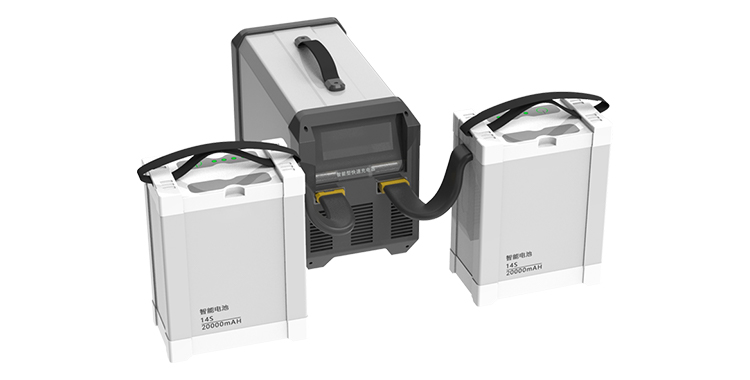 • 14S 20000mAh smart lithium battery with dual-channel high-voltage charger to ensure charging stability and safety.
• High voltage smart charger for fast charging of two smart batteries at the same time .
| | |
| --- | --- |
| Battery voltage | 60.9V (fully charged) |
| Battery life | 600 cycles |
| Charging time | 15-20 minutes |
1. What is the best price for your product?
We will quote according to the quantity of your order, large quantity.
2. What is the minimum order quantity?
Our minimum starting order is 1 unit, and of course we have no purchase quantity limit.
3. How long is the product delivery period?
According to the production order dispatch situation, generally 7-20 days.
4. Your payment method?
Electricity transfer, 50% deposit before production, 50% balance before delivery.
5. Your warranty time?What is the warranty?
General UAV framework and software for 1 year warranty, vulnerable parts for 3 months warranty.
6. Are you a factory or a trading company?
We are industry and trade, we have our own factory production (factory video, photo distribution customers), we have many customers around the world, now we develop many categories according to the needs of our customers.
---
---